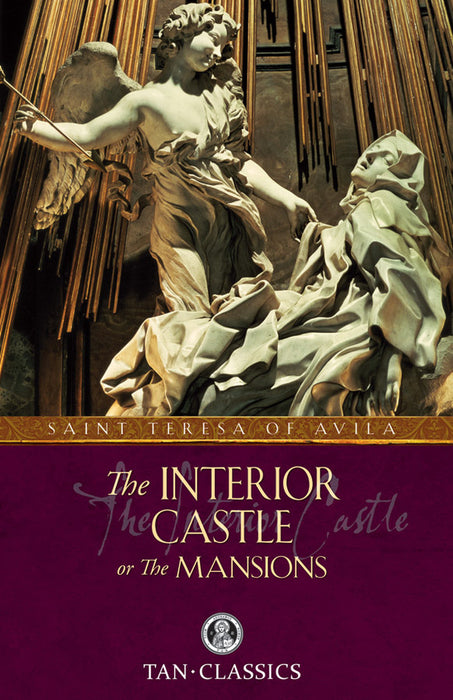 The Interior Castle by St. Teresa of Avila
by St. Patrick's Gifts & Books
What does the life of our soul look like? 
In the Interior Castle, St. Theresa imagines the soul as a magnificent castle full of spacious and elaborate rooms. And, as St. Theresa describes, at the heart of this castle stands the seat of the King himself.  
"I thought of the soul as resembling a castle, formed of a single diamond or a very transparent crystal, and containing many rooms, just as in Heaven there are many mansions. If we reflect, sisters, we shall see that the souls of the just man is but a paradise, in which, God tells us, He takes his delight." (Page 7)
This book provides a remarkable description of the spiritual life of the soul. From the first release of the soul from mortal sin into sanctifying grace, to the mystical marriage of the soul to Christ, Interior Castle describes the spiritual life as a journey through the imagery of a mysterious  and beautiful castle. 
Using her image of a castle, Saint Theresa writes about numerous essential aspects of our spiritual journey in this book, including:
Practical advice to those beginning their spiritual journey, especially regarding the early struggles and temptations to turn back

Descriptions of the seven mansions and what they mean for the soul

How and why we should love and serve the Divine Majesty 

The value of our progress towards God 
Formatted in the simple but attractive way of all the TAN Catholic Classics Series, this book will help you beautify your bookshelf as well as your soul. 
The instructive, witty, kind, and prayerful style of St. Theresa of Avila will inspire you to see the soul in a new way. After reading The Interior Castle, you will want the beautification of your soul above all earthly treasures.
225 pages; Paperback