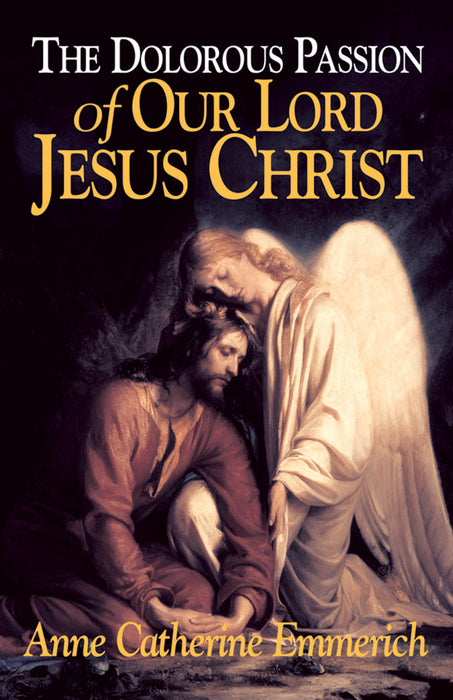 The Dolorous Passion of Our Lord Jesus Christ: From the Visions of Anne Catherine Emmerich
by St. Patrick's Gifts & Books
"But there are also many other things which Jesus did; which. If they were written every one, the world itself, I think, would not be able to contain the books that should be written." (John 21:25).
Did you know that the revelations as told in The Dolorous Passion of Our Lord Jesus Christ inspired and provided many of the powerful images and scenes in the film "The Passion of the Christ?"
Written to inspire an increased love for God, this book details the visions of Blessed Anne Catherine Emmerich, the renowned 19th century German nun who was a visionary, mystic, stigmatist, and victim soul. Bl. Anne's visions give accounts of many more of the unknown details of the Passion, providing our imaginations rich food to further contemplate Our Lord's great suffering on our behalf, and thereby grow our love for Him by meditating upon His most sacred and dolorous Passion.
Every Catholic should meditate frequently upon the Passion of Our Lord— with this book in hand you will be able to meditate on the narrative of the Passion in a new, vivid, and especially spiritually enriching way. Edifying, inspiring, surprising, and heart-rending, Bl. Anne Catherine Emmerich's descriptions of our Lord's Passion will melt a heart of stone. 
Some of the content of her visions include:
The Blessed Mother's role in the Passion and in our redemption 
The details of the insults hurled at Jesus
Jesus' conversations with his disciples and with the two thieves
The reactions and fear of the people all throughout Jerusalem 
An account of the descent into Hell
And much more… 
Also included is a biography of the author, which explains the details of her holy life and how different members of the hierarchy of the Church have promoted her visions as credible.
Easily the best and most complete meditation on the Passion, this book is a must-have Lenten read, as well as a year-round way of fostering a spirit repentance and love of our suffering Lord.
406 pages; Paperback