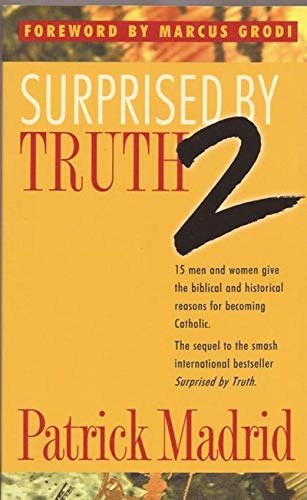 Surprised by Truth 2: 15 Men and Women Give the Biblical and Historical Reasons For Becoming Catholic by Patrick Madrid
by St. Patrick's Gifts & Books
This collection of testimonies by people whove found new life in the Catholic Church is one of the most potent weapons for the Faith ever crafted! These authors dont just tell their stories they also give you an insiders view of the fatal weaknesses in the creeds and belief systems that beckon unwary Catholics every day: Fundamentalism, New Age paganism, Mormonism, materialistic hedonism, and many others.
Youll discover why these converts forsook beliefs cherished by their families and friends in order to enter the Catholic Church. Their reasons are so compelling that Catholics can use them to draw their own non-Catholic friends and relatives to the Faith.
These converts will also convince wavering Catholics to stay Catholic, and theyll bolster the faith of Catholics when anti-Catholic arguments start to make them doubt. Readers will come away with new gratitude to God for the Catholic Faith, and with a strong new tool they can use to stand proudly for that Faith.
298 pages; Paperback