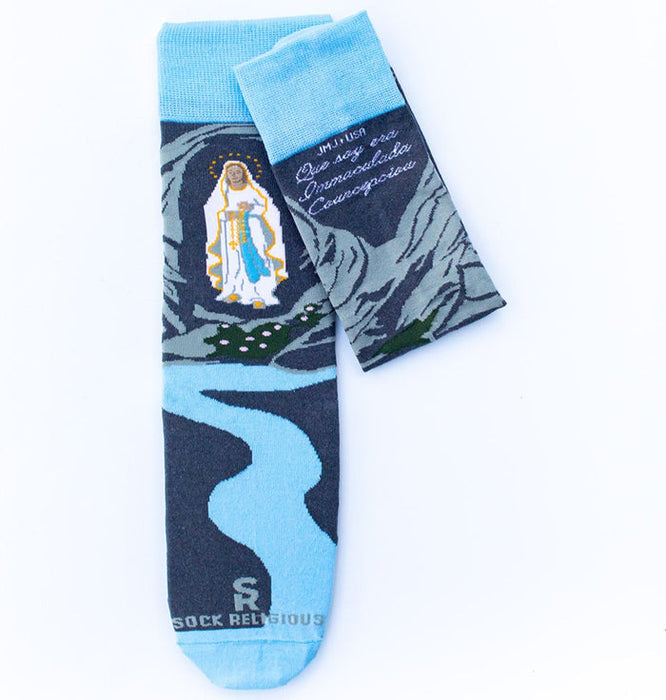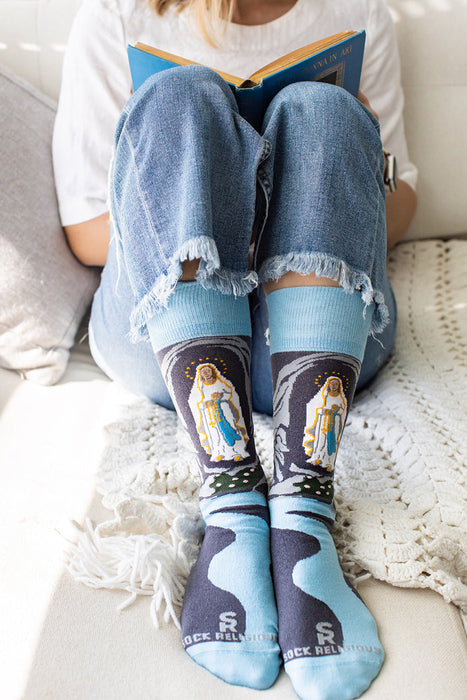 Sock Religious Our Lady of Lourdes Socks
by St. Patrick's Gifts & Books
Our Lady of Lourdes first appeared to a young girl named Bernadette Soubirous in Lourdes, France in 1858. Bernadette had a series of visions of the Virgin Mary in the Lourdes grotto, during which Mary asked her to pray for sinners and perform acts of penance.

One task given to Bernadette was to dig at the foot of the grotto to expose a spring. The water that flowed forth from the spring proved to have miraculous healing properties for the sick.

During her last vision, Mary identified herself in Bernadette's native tongue as the "Immaculada Councepciou," in English, the "Immaculate Conception." You can see this powerful phrase and the healing waters featured on our design. Our Lady of Lourdes is revered around the world as a symbol of hope and healing.

Our Lady of Lourdes, pray for us!
The Largest Catholic Sock Company… probably. 

Tens of thousands of people are already wearing our socks.

These socks are sure to be a conversation starter and evangelization opportunity.

Our socks make great Catholic gifts for all occasions: First Communion, Confirmation, Ordination, Wedding, Christmas Presents, Easter Baskets, Graduation.

Proudly made in the USA by our team in Indianapolis, IN.

Each sock's essential stitches represent the Holy Family: Tan around the inside of the cuff, representing St. Joseph as head and protector of the Holy Family. Blue (outside) and white (inside) representing Mary and Jesus stitched across the toe of every sock. 

A portion of production goes to make socks for our brothers and sisters experiencing homelessness in Indianapolis, IN.