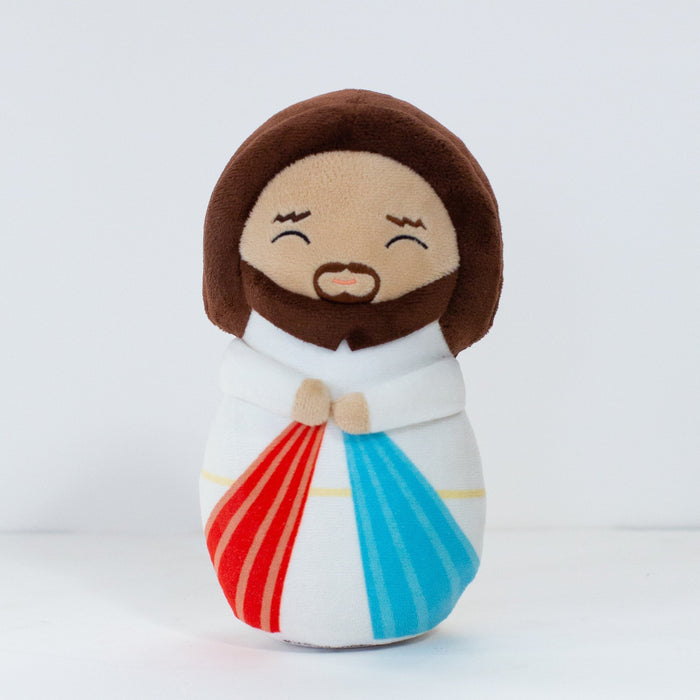 Shining Light Divine Mercy Plush Doll
by St. Patrick's Gifts & Books
"Lay your head on my shoulder, rest and regain your
strength.  
I am always with you"
-Jesus to St. Faustina
.
On February 22, 1931, Jesus appeared to St. Faustina, a Polish nun, and delivered the message of Divine Mercy.  Jesus asked St. Faustina to have an image painted of him standing with two rays coming from his chest, with the words, "Jesus, I trust in You" underneath.  The rays represented the blood and water that poured out when he was pierced by the lance after his crucifixion.  Jesus instructed St. Faustina that this image would be a reminder to all mankind of God's endless mercy.  Jesus said it should also be a reminder to us that we are called to show God's love and mercy to others as well.   
Handcrafted from the softest plush we could find, this Divine Mercy plush is sure to become your little one's favorite companion!
Custom fabric and embroidery details on Jesus' face make this doll a real treasure.

Divine Mercy Jesus comes tagged with feast day and patronage information, ready for gifting (if you can manage to let him go!)     
Plush material is surface washable. 
Each doll made lovingly by hand. Due to the handmade nature of this doll some slight variation may occur. Plush dolls range in height from 9-12 inches depending on style