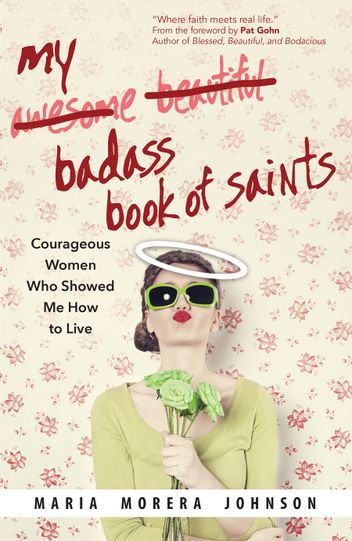 My Badass Book of Saints: Courageous Women Who Showed Me How to Live by Maria Morera Johnson
by St. Patrick's Gifts & Books
Winner of a 2016 Association of Catholic Publishers Excellence in Publishing Award: Inspirational Books (First Place).
In this edgy, honest, and often audacious book of Catholic spirituality, blogger and popular podcaster Maria Morera Johnson explores the qualities of twenty-four holy women who lived lives of virtue in unexpected and often difficult circumstances.
In My Badass Book of Saints: Courageous Women Who Showed Me How to Live, Johnson shares her experience as a first-generation Cuban-American, educator of at-risk college students, and caregiver for a husband with Lou Gehrig's disease. Through humorous, empowering, and touching portraits of twenty-four spiritual mentors who inspired her, Johnson shows how their bravery, integrity, selflessness, perseverance, and hope helped her and can help others have courage to reach for a closer connection to God.
She presents remarkable holy women and saints—including the gun-toting Servant of God Sr. Blandina Segale, who tried to turn the heart of Billy the Kid; and Nazi resister Irena Sendler, who helped smuggle children out of the Warsaw Ghetto during World War II—in a way that brings their vivid personalities to life and helps readers live out the challenges of their lives with virtue and conviction. The book includes a group discussion guide.
137 pages; Paperback