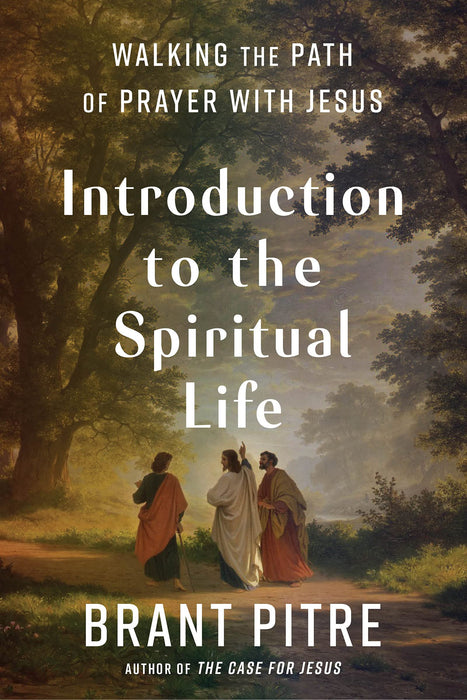 Introduction to the Spiritual Life: Walking the Path of Prayer with Jesus by Brant Pitre
by St. Patrick's Gifts & Books
A compelling exploration of the biblical foundations, contemplative practices, and spiritual path of Jesus himself—from the bestselling author of The Case for Jesus "What happens when a biblical theologian explores classic spirituality? This book. Pitre's students have asked, Why have we never heard this before? The reader wonders the same."—Dr. David Fagerberg, author of Liturgical Mysticism 
The path of following Jesus is an ancient and storied spiritual tradition. Yet many believers are not familiar with the three major forms of prayer and the three stages of spiritual growth that exist to bring them closer to God.

In his most personal book yet, Brant Pitre, PhD, draws on the riches of the Bible, the words of Jesus, and the writings of mystics across the centuries to shed light on the mystery—and wonder—of the spiritual life.

Starting with the age-old belief that the path of prayer is not only informative but transformative, Dr. Pitre explores

• the scriptural roots of the best forms of prayer: vocal prayer, meditation, and contemplation
• the purgative, illuminative, and unitive stages of spiritual growth
• the spiritual exercises of prayer, fasting, and almsgiving
• the Jewish roots of the Lord's Prayer
• Lectio Divina: how to pray with the Bible
• seven vices and their seven opposing virtues
• the battle of prayer: how to deal with difficulty and distractions
• the "dark night of the soul" in the Scriptures
 
Full of sacred truths, contemplative insights, and practical steps, Introduction to the Spiritual Life is a biblical road map of the spiritual landscape that enables us to follow Jesus as our primary guide.
336 pages; Hardcover