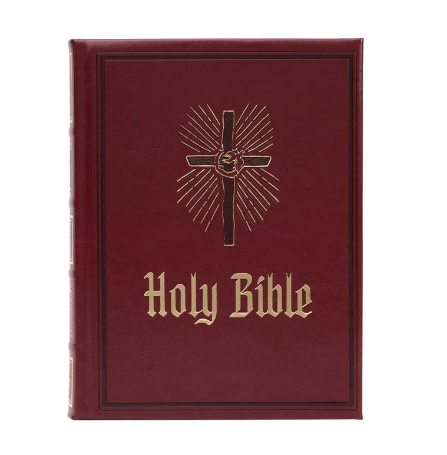 Catholic Heirloom Family Bible NABRE
by St. Patrick's Gifts & Books
Introducing the Catholic Family Heirloom Bible, a beautiful and timeless addition to your family's spiritual journey. This Bible is designed to be a cherished heirloom that can be passed down from generation to generation, serving as a symbol of your family's faith and devotion.
With its padded burgundy cover, this Bible exudes elegance and sophistication, making it a striking centerpiece in any home. The gold gilded page edges add an extra touch of luxury, while the marker ribbon allows you to easily keep track of your place during readings and prayers.
Inside, you'll find the complete Catholic Bible, featuring both the Old and New Testaments. The text is printed in a clear and easy-to-read font, ensuring that you can enjoy the Scriptures without any distractions. Additionally, this Bible includes a family record section, allowing you to record important milestones and events for generations to come and a full color section titled "In The Arms of God" that highlights relevant verses, prayers and words of encouragement to aid families in getting through troubled times.
The Catholic Family Heirloom Bible provides an opportunity to deepen your spiritual connection and create a lasting legacy for your loved ones. Don't miss out on this exquisite treasure that your family will cherish for years to come.
SIZE: 11" X 8 1/2" X 2 1/2"