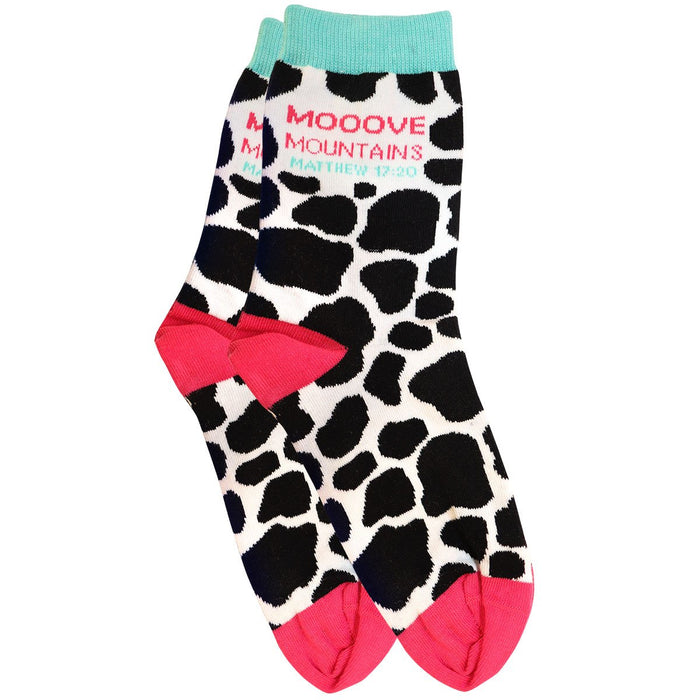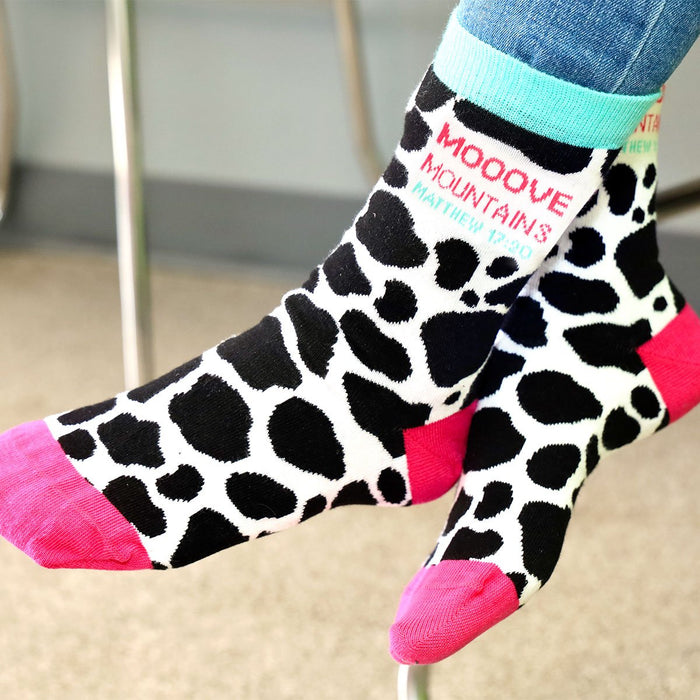 Bless My Sole Crew Socks - Moove Mountains
by St. Patrick's Gifts & Books
Expect big things from your faith in these sweet "Moo" Socks by Kerusso® in Black/White. Country and city girls alike will love the reminder that even the smallest measure of faith can 'mooooove mountains!' We can be one of the herds — or we can choose a different path, following the Savior in this life, and into eternity.
Matthew 17:20 says, "He replied, 'Because you have so little faith. Truly I tell you, if you have faith as small as a mustard seed, you can say to this mountain, "Move from here to there," and it will move. Nothing will be impossible for you.'" On our own, we accomplish little; go ahead — kick a big rock and see how far it goes. But with God, nothing is impossible. His Word, the Bible, promises even a speck of faith empowers us to move mountains in the name of Jesus, and we can rely on that.
God answers prayer, and He wants to move the mountains in your life from here — to there. Ask, believe, and prepare your heart to receive. Sometimes we don't get the answer we are looking for, but God is faithful, and He has a plan. Believe, and watch those mountains move! These comfortable, breathable cotton-blend socks are a hug for your feet and guaranteed to make you smile!
Color: Black/White
77% Cotton/22% Polyamide/1% Elastane
Machine Wash Cold
Tumble Dry Low
Do Not Bleach, Iron or Dry Clean
One Size Fits Most - Ladies Shoe Size 6-10, Mens Shoe Size 7-14